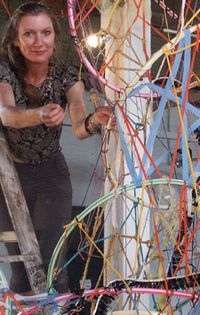 MAGGIE ENS

I craft webs from imagination, dreams and karma. There is more to express and no particular order to the relating chaos of concepts my echo-logically sENSitive art  explores. To keep an organized mass of ideas moving forward over time, to feel that life is inspiring itself, I follow my Muse nudging towards conscious freedom.  Hoping for the all of it to be satisfying, surprising and open-ended, collective cast-off sparks of life express benefit and worth.Wound together the parts function as a conductor of energy, as a spatial and spiritual dissolver of reality, revealing impressions of space, color, depth and form.  
Only by discovering that which is true within myself, can I hope to be understood by others.
-- Jay DeFeo, Museum of Modern Art 1959 catalogue statement 
My heart is moved by all I cannot save; / So much has been destroyed / I have cast my lot with those / who, age after age, perversely, / with no extraordinary power, / reconstitute the world.
-- Adrienne Rich "Natural Resources" The Dream Of A Common Language:Poems1974-1977 (New York: W. W. Norton 1993) p.60  
Maggie Ens's Material Paintings,Collages and Sculpture continue the tradition that was initiated by Kurt Schwitters, of recycling common discarded objects in artworks. The detritus, while retaining its identity, is transformed….The works are dense with manmade objects… that interact with natural items like sand, shells, and plants….Ens takes an outsider's delight in investing manic energy in fetishistic objects that make no concessions to polite artistic conventions. However, she does not try to hide the fact that she is a product of a sophisticated arts education. As wild and wooly as the works might be, most are presented in standard rectangular formats. There is a tension between tastefulness and the macabre, such as a work that features a tarantula menacing a butterfly that is stuck in its web. The twist is that it seems the huge butterfly is capable of defending itself, perhaps by blinding the spider with its pure whiteness.   
--Nicholas Bergman Gallery gallery statement on Ens's Vesta's Vows Take Wing
MAGGIE ENS was born in Missouri. Presently residing in New York City, she teaches woodworking in Manhattan to children and collage and mixed media to adults at the City and Country School and at the 92nd St. Y., respectively. Ms. Ens studied psychology, theatre and fine art, attending Western Michigan University, Thomas Jefferson College at Grand Valley State University and California College of Arts and Crafts, studying with the feminist painter Jay Defeo, a San Francisco artist of the Beat Generation. 
In 1981, Ms. Ens received her MFA in Painting and Sculpture from Tyler School of Art, Temple University in Philadelphia and moved to New York City. Briefly serving as studio assistant to feminist art pioneer Mary Beth Edelson, Ms. Ens also worked at Dia Art Foundation's Harrison St. address for avant-garde minimalists, composer La Monte Young and light sculptor Marian Zazeela. 
Since the mid-80's, Ms. Ens has showcased her Echo-logically sENSitive interwoven found object sculpture, creating urban jungle installations with Collaborative Projects, Inc. (COLAB) during its second East Village incarnation, and with the Fusion Arts Museum in the U.S. and Europe. 
Ms. Ens has exhibited work in Paris, Helsinki, Montreal, Tokyo and Posnan. Her art is in private and public collections and is included in the printed matter collected works of The Fusion Art Museum at MOMA, the Whitney Museum and the Guggenheim Museum among others.
MAGGIE ENS              maggiee@cityandcountry.org       P.O.Box 1239
917-570-3168                 treesofnerveendings.net                NYC, NY 10276 
 
SELECTED SOLO EXHIBITIONS (1984 - Present)
2014    Awl and The Gift Of String, Caleum Gallery, NYC, NY 
            You Cave In, Drawing Rooms, Jersey City, NJ 
2013    Material Paintings Hostetter Gallery, Basking Ridge, NJ  
2011    Vesta's Vows Take Wing, Nicholas Bergman Galley, NYC, NY
2010    Dreamcatcher On the Hudson, Beezak, Yonkers, NY 
            Spirit Tide (Like That Of the Sea) Constructions, Sawadee Invitational, Jersey City, NJ
2007    Sync and Swim, City Hall Rotunda Gallery, Jersey City, NJ
2005    Sewbirds: The Art of Happiness Is to Serve All, Fusion Arts Museum, NYC, NY
2004    Cave of Arrows, Inner Spaces Museum, Posnan, Poland
2003    Catchers of Dreams, Art Station, Quebec, Canada
2002    NY Stop Exchange, Union Square Subway, NYC, NY
2000    Tree Web, Tompkins Square Park, NYC, NY
1999    The Power of One, NYC Port Authority, NYC, NY
1998    Ten Worlds, Factory Gallery, Jersey City, NJ
1997    Cave of My Heart, Como Coco Gallery, NYC, NY
1996    Mom and Pop Store/House, Winslow Gallery, NYC, NY
1993    Urban Jungle, Waste Laboratory, The Living Theatre, NYC, NY
1992    Club Vanity, Octagon Club, NYC, NY
1990    Happiness Is Not a Warm Gun, Webo Gallery, NYC, NY
1988    Spring Mysteries, Fashion Moda, Bronx, NY
1987    Window Peace, Sohozat, NYC, NY
1984    Circumventions, Hamilton College, Clinton, NY
            1984, Paper Mache Video Institute, Bridgeport, CT
SELECTED GROUP EXHIBITIONS (1995 - Present)
2015     International Invitational, Caleum Gallery, NYC, NY
2014     Eye Candy, Jadite Galleries, NYC, NY
2013     Raw Drawing, Drawing Rooms, Jersey City, NJ
2012     The Subjective Objective, Drawing Rooms, Jersey City, NJ
2011     Invitational, Chamot Gallery, Jersey City, NJ
2010     Adam's Rib, Fusion Arts Museum, NYC, NY
             Spirit Tide, RABBITHOLESTUDIO, Brooklyn, NY
--- 12     Figment Mini-Golf, Governors Island, NYC, NY
2009     Constructions In the Sunken Garden, Mac-Cali Atrium, Jersey City, NJ 
             Figment Dream Catcher, Governors Island, NYC, NY
2008     Love Is For Lovely People, Victory Arts Projects, Jersey City, NJ
             ReCycle, Fusion Arts Museum, NYC, NY   
             Lifecycles, Victory Arts Projects, Jersey City, NJ
             t's Only Natural, 77 Hudson St. Gallery, Jersey City, NJ
             JC Art Fair @ The Beacon, Jersey City Museum, Jersey City, NJ
             Dolls Different, Fish With Braids Gallery, Jersey City, NJ
             East Village/Lower East Side Retrospective, Christina Vargas Gallery, Woodstock, NY
             Group Show, The Arts Upstairs, Phoenicia, NY
2007     Fire And Ash, Ben Shahn Center, Wayne , NJ
             Heavy Water, Fusion Arts Museum, NYC, NY
             Fish Out Of Land,Victory Arts Projects, Jersey City, NJ
             99 Cent Dream, The Jersey City Museum and Victory Hall, Jersey City, NJ
             Slide Night:: Fun With Toys, Jersey City Museum, Jersey City, NJ
             Rock Soup Studios: In the Spirit Of the Phoenix, Mana Fine Arts, Jersey City, NJ
2006     The Chair Story, Mana Fine Arts, Jersey City, NJ
             Heist Project, Arthouse Productions, Jersey City, NJ
             Avant Garden State, Union Street Gallery, Jersey City, NJ
             Moon in Venus Ritual, TreesOfNerveEndings Studio, Jersey City, NJ
             What's On Your Mind? Westbeth Gallery, NYC, NY
             Bent 2006 Circuit Bending Festival, 15 Nassau St., NYC, NY
             More Than Meets the Eye, Ben Shahn Center, Wayne, NJ 
2005     Columns: Installation x 12, Grace VanVorst, Jersey City, NJ
             Then and Now, Fusion Arts Museum, NYC, NY
             The Goddess Within, Bronx Academy of Arts and Dance, Bronx, NY
2004     The AV Club,Victory Hall, Jersey City, NJ
             Living a Culture Of Peace, Victory Hall, Jersey City, NJ
             Hell's Kitchen Helps "Aisha",Cusick Studio, NYC, NY
             Assemblage, Collage, Construction, OAI Gallery 404, NYC, NY
             Winter International Group Shows, Caleum Gallery, NYC, NY
             Transfusions, Too, Fusion Arts Museum, NYC, NY
             What Have You Got To Say? Grace Van Vorst, Jersey City, NJ
2003     Epic Show, Victory Hall, Jersey City, NJ
             New Kid on the Block, Jersey City, NJ
             Trappings:Stories of Women, Power and Clothing, 2 Women Working, Grace Church, JC, NJ
             Summer International Group Show, Caelum Gallery, NYC, NY
             Unbearables Howl Festival, Transfusions, Fusion Arts Museum, NYC, NY
             Built To Form, Victory Hall, Jersey City, NJ
             Conversations, Irving Goldman Gallery, Jersey City, NJ
2002     Wonderworld,Victory Hall, Jersey City, NJ
             Summer Salt, 128 Rivington Gallery, NYC, NY
             Anima Art, Times Square Gallery, NYC, NY
             Getting It Together, Collage/Assemblage Society, NYC, NY
2001     Young at Art: Youthful Inspirations, Sam Citron Gallery, Jersey City, NJ
             Here Comes the Sun, La Purla Garden, NYC, NY
             Reunion: In the Spirit of Community, Times Square Hotel, NYC, NY
2000     Fresh Produce, Fringe Festival, Charas/El Bohio, NYC, NY
             Ladybugs in the Recorder, B.U.M.P. EXPO, Jersey City, NJ
--- 09     Artists Alliance Open Studios, Clemente Soto Velez Culture Center, NYC, NY
1999     Souvenirs/ Documents: 20 Years, PS 122, NYC, NY
             Friends of Friends: Friends Without a Border, Howard Greenberg Gallery, NYC, NY
1998     Travel-Sized, Godzilla, City College, NYC, NY and Tokyo, Japan
1996     Heart Works, Children's Friends for Life, Michael Ingbar Gallery, NYC, NY
             Pelt, Goldenwest Gallery, Sachekin, WA
1995     Best of the Red Spot SlideTheatre, NYC Transit Authority, NYC, NY
             On the Edge-Homelessness, Molloy College, Rockville Centre, NY